BRING ISRAEL'S DIVINE PROTECTION INTO YOUR HOME
AND KEEP IT CLOSE TO YOUR HEART
WHAT IS IRON DOME?
The Iron Dome is Israel's miraculous missile defense system that has saved the lives of countless Israeli citizens.
Its sophisticated  radar system identifies the source of the enemy missile, analyzes trajectory, estimates the point of impact and launches an interceptor within seconds.
SECRET POWER REVEALED
Of the nearly 5000 missiles that were fired at Israeli targets by Hamas in 2014, Iron Dome miraculously intercepted 90% of those determined to be life threatening.
The secret to Iron Dome's success lies not only in Israel's advanced technology and sophisticated intelligence, but in the divine protection that has enabled the nation of Israel to survive and thrive throughout the ages.
THE ARTIST: A DIVINE IDEA
Israeli artist Yaron Bob became world famous by creating beautiful art from the remains of Kassam rockets that exploded in Israel.
After the miraculous success of Israel's Iron Dome came the next idea. To create meaningful items from the very material used to protect the people of Israel.
And so, Iron Dome Creations was born!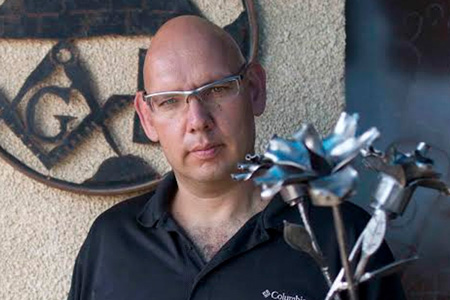 What better way to protect your family than to
bring Iron Dome Creations into your home